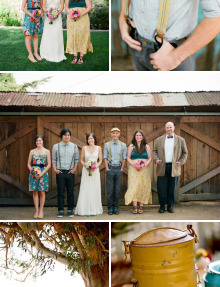 We've been falling head over heels for today's Ryan Ray + Angel Swanson of Events of Love and Splendor wedding and you know what? It's about to get even better. Something about the sun setting in the background, the bride and groom that are hopelessly in love, the whimsical details, the colorful touches. The crazy amount of beauty that seems to jump out of each and every...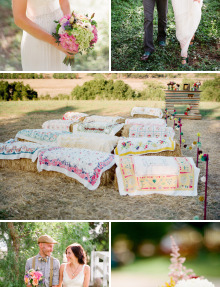 I met photographer Ryan Ray out in Mexico a couple of months back while we were soaking up the genius that is Jose Villa. Ryan was actually playing model for the workshop (yep, talented AND dreamy) and I was speaking. While we were out there, Ryan told me that he'd been holding on to a really special wedding, one that he was saving for just the right blog, just the right moment.
It isn't very often that we stumble across such a fabulous wedding that we clear out an entire day for gushing but Ryan Ray isn't your ordinary photographer. Oh on the contrary, he's actually insanely talented and has sent a San Luis Obispo wedding our way that is going to dazzle your brains. But before we get to the goodies, we thought it would be super fun to delve a bit into the inspiration behind this whimsical affair. Most of...
Aren't weekends just the best?!?  Two whole days with nothing to do, but curl up on the sofa and soak in all of the pretty, pretty inspiration here on SMP California... I'm getting excited just thinking about it.  Even better, we have three brand new (plus absolutely fabulous) advertisers to introduce you to this morning... and that means even more wedding goodness to peruse!  And, trust me, there is nothing better than hours upon hours spent with the genius that is...
Ryan Ray has a way with the camera. He honestly takes the kind of pictures that melt a viewers heart and pull them head over heels into each and every photograph and for reasons like that I am deeming myself President of the Ryan Ray Fan Club. One glance at this Texas beauty that's equal parts classic and ga ga gorgeous and you'll want to hop on his bandwagon too. Lucky you, I think we still need a Vice President.
Ryan Ray and his gorgeous film photography are our Friday heroes. And how could they not be when you can literally see and feel the love oozing out of each and every image? All of us here at SMP are going all sorts of gaga over this romantically classic wedding today and I'm sure you'll understand (and share) our obsession once you see all the simple and sweet details coming your way.
I do believe this lovely St. Louis affair is what wedding dreams are made of.  From the soft color palette to the sweet vintage touches to the uber-stunning bride and groom, this darling fête is all about the romance.... and then some.  And don't even get me started on those insanely gorgeous florals.  Simply.  Breathtaking.  Needless to say, I plan to spend my entire day swooning over every last dreamy detail captured by...