As you read this post, please imagine a girl, sitting behind a computer, smiling so hugely you just might think she's a touch crazy. But she's not. She's just more excited than she's ever been in her whole life. Or at least very, very close. Because the day has finally come that she gets to announce her book. The book that consumed the vast majority of her life for the better part of a year, that is more beautiful, more perfect than she ever could have dreamed. With a cover image by...
Oh Jose Villa. You make me speechless each and every time I run into your breathtaking images. It never fails. And I am pretty darn sure that the rest of you in SMP land share that sentiment. Because his images are that of photography magic. A talent I'll never be able to put words to, but I will always jump for joy when I get to spend any amount of time gawking over the gorgeous that magic creates. This cover shoot for the newly launched...
You know, in five years of writing about beautiful weddings designed by artists and designers that leave me FAR more starstruck than celebrities, I still get butterflies when one of those very names come through my inbox. Photographer, Jose Villa, of course, who I gush about regularly and who has become a real friend to me in this industry. But also Beth Helmstetter...
The second we hear the name Jennifer Behr a little alarm goes off in our brains; a ringing that signifies we are about to indulge in all sorts of pretty headpieces. From deliciously delicate halos to veils so beautiful, they instantly take our breath away. So who better to team up with for a look inside finding just the right wedding day topper than Jennifer herself. She is spilling the beans on finding the one in our...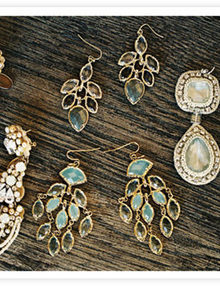 A day at Style Me Pretty is always a good one, full of beautiful imagery and heart melting wedding moments. But some days are  beyond our wildest dreams good. The kind of days where we get to share our newest magazine project packed to the gills with drool-worthy fashion and top it off with a really awesome GIVEAWAY (Just wait until you see what we have up our pretty sleeve). Ok, ok, we'll...
There is no denying today's Jose Villa masterpiece (seen here and here) moved us to the core. So we just couldn't wait to get our hands on the film of...
It's no secret that I'm a full on Jose Villa groupie. Like of the Penny Lane Status. It's fine. I'm not embarrassed. He's genius and I'm officially starting his first legit fan club. Case in point? Today's featured wedding. With photography so full of gorgeousness I would seriously print these out and hang them on my wall even though this is definitely not my wedding. They are just that lovely. Add to Jose's work, a...
I'm a girl's girl. The kind that will always find comfort in the color pink. That will forever sigh when I see a bundle of peonies. The kind of girl's girl that can spot a perfect Jose Villa photograph from a mile away. And whose fingers can't ever find the right words to introduce one of his stunning weddings.  So imagine my nerdiness when you layer on a bride that is glowing from the inside out, a groom that is all dreaminess and a...
Over the years, Jose Villa and I have become friends. Good friends. The kind that can be totally honest with each other and have sleepovers and stuff. But without fail, every time I get a Jose Villa ding in my inbox, I STILL get the celebrity butterflies. And I dork out completely knowing that I get to write about a wedding photographed so beautifully, it can only be called art. And this one, my lovelies, is Jose at his finest. Add to...