Blog
Location
Tags
Designers
Vendors
Venues
Man, oh, man I love this New York City wedding!  It is a little classic romance, a little urban sophistication, a little modern whimsy and a whole lot of fun.  They kicked things off right with a double decker ride through town, a playful game during the ceremony and loads of awesome modern details at the reception.  Plus the bride and groom are just gorgeous!  And her dress?  Stunning.  They knocked it out of the park with images from Katie Osgood Photography.  See it all in the full gallery!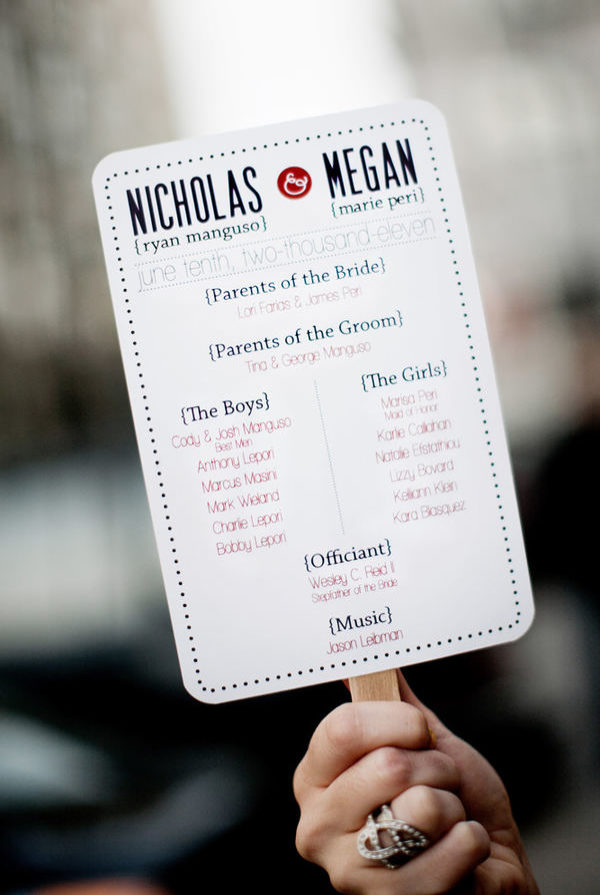 Click here to see the entire gallery of images!
From Katie Osgood Photography…Megan Peri and Nick Manguso had their ceremony at Brooklyn Bridge Park on the shore of the East River overlooking Manhattan. Megan started the day getting ready the at the very swanky Chambers Hotel in midtown. From there Megan, Nick, and the wedding party of 16 was picked up by a big red double -decker NYC site seeing bus! Soo cool!  Megan didn't want to have their first look until they got to Brooklyn so when the bus stopped at the park entrance we had Nick waiting on top as Megan came up the stairs, such a great moment! It must be mentioned Megan did all her own graphic design too!
My favorite thing (and most creative I think) that Megan and Nick did for their ceremony was add a little game into the mix. Because where they exchanged vows is situated right next to the Manhattan Bridge every couple minutes a train passes, making some serious noise! Megan's solution was to make a drinking game out of it. Every guest was given a plastic cup of sangria, as was the whole wedding party, and every-time the train came-they drank! Such a cool solution to a potentially totally annoying hiccup during the ceremony. Additionally, to end the long night of dancing and cocktails Megan had the guys from Calexico bring their taco truck over and feed everyone! An epic ending to a fabulous party!
Wedding Photography: Katie Osgood Photography / Second Photographer: Heather East / Ceremony Venue: Brooklyn Bridge Park / Reception Venue: Galapagos Art Space / Hotel: Chambers Hotel / Hair + Make-up: Kerry Lou Brehm / Girls' Robes: Nordstrom / Wedding Design + Coordinator: The Bride + Tracie Simon / Graphic Design + Invitations: The Bride, Megan Peri / Flowers: Verde Flowers / Wedding Dress: Rivini / Bride's Shoes: Prada / Groom's Suit: J.Crew / Groom's Shoes: Nike / Wedding Cake: Momofuku / Cookies: Levain Bakery / Desserts: Doughnuts by Dough / Catering: Naturally Delicious / DJ: Theo Philip / Musician: Jason Liebman / Taco Truck: Calexico

Naturally Delicious
is a member of our Little Black Book, Love what you see? Take a look at their portfolios.
For more information on how Little Black Book Members are chosen click here.
J.Crew and Rivini are members of our Look Book. For more information on how members are chosen, click here.