Blog
Location
Categories
Tags
Designers
Vendors
We are going to keep you going right through this gorgeous Wednesday with a city chic affair in New York. All of the best spots in NYC are covered with this fete – we are talking the subway, Central Park, a reception at One if by Land, Two if by Sea and all of it captured beautifully by Gulnara Studio. See what all the fuss is about in the gallery where there are even more gorgeous images oh so perfect for a little evening looky loo.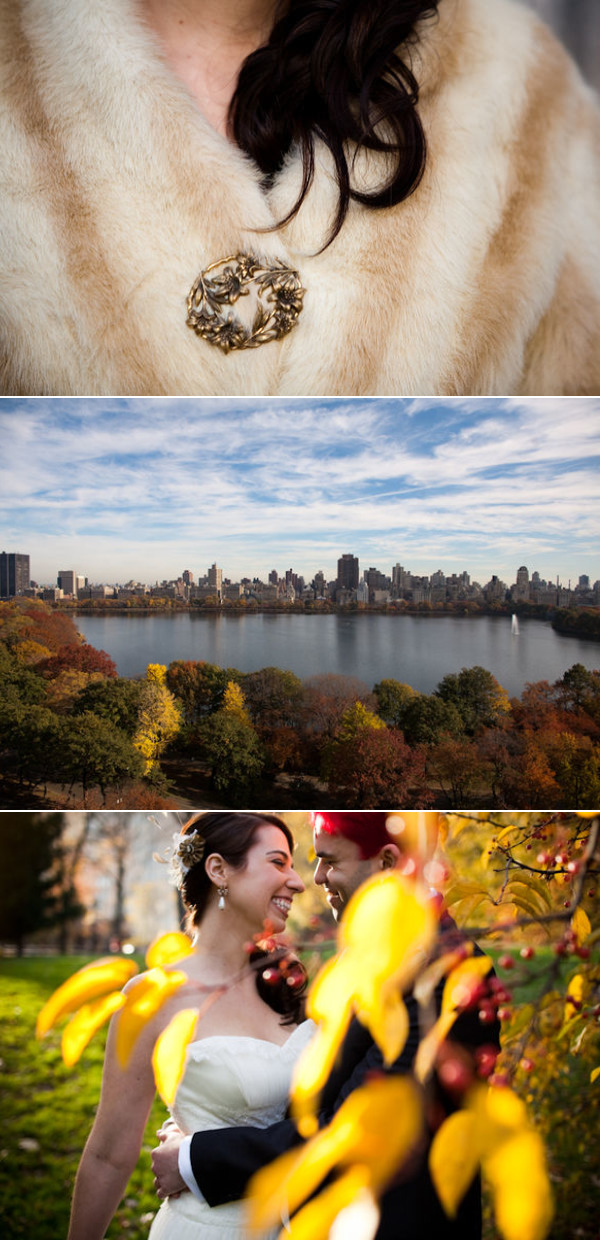 click here for the FULL wedding
From the Bride… Shane and I share a keen interest in history, especially that of our home, New York City. Our reception venue (the restaurant One if by Land, Two if by Sea) is in a historically significant building– it was once the carriage house of Aaron Burr, and is allegedly haunted by his daughter Theodosia, who perished at sea under mysterious circumstances. We chose the restaurant for its food and atmosphere, but were delighted to learn it had such a storied past. When we realized that our ceremony location– the Soldiers and Sailors Monument in Riverside Park– and reception venue shared a vaguely nautical theme, we went with it, ultimately ending up with something that felt true to our style: locally-inspired, old-timey and a little offbeat.
With help from our wedding party and friends, we DIY'ed most of the décor items from the chuppah to the table runners, many of which were pieced together from flea market finds (the guest book, for example, was a repurposed scrapbook from the 1876 Centennial Exhibition I picked up for $5). Making invitations and paper goods for the wedding was a blast as it involved looking through lots of old newspapers for inspiration and gave me an excuse to learn how to do letterpress printing at a local studio (thearmnyc.com), and also an occasion to have our friends over for an evening of wine and collating.
We knew we wanted to get married in the fall, but mid-November is a weird transitional time for flowers, and as a gardener I tend to want to use materials that are in season locally because it feels more authentic. The boutonnieres are blue spruce and ornamental cabbage, and my bouquet included the same blue spruce– which a family member cut from her garden–and lambs ears and artemesia we'd grown on our balcony (not pictured–the terrace in the photo is actually the home of a friend who generously offered it to us as a staging area). The floral containers came from eBay– we snagged a lot of old amber medicine and chemist bottles for their beautiful labels, and my intrepid fiance and matron of honor cleaned some pretty frightening looking (and aromatic) residues from insides.
I couldn't bring myself to wear a veil, so I did the next best thing and made a hairpiece that incorporated a piece of lace from my mother's veil. The cameo is from an earring I found at a flea market. Two days before the wedding, short on something blue, I serendipitously discovered the brooch with blue bells that belonged to my late grandmother, which I pinned to the inside of my dress. What we liked best about the wedding is that it was so close to home– we were married by a friend, in a public park a few blocks from where we live, after which we took the same subway we take every day to get to the reception. It was a celebration of our life together, and an invitation to our loved ones from near and far to be a part of it.
Photography: Gulnara Studio / Ceremony: Riverside Park at 90th Street, NYC / Reception: One if by Land, Two if by Sea, NYC / Wedding Day-Of Coordinator: Vanda High Events / Floral Arrangements: Spencer Merolla with Elaina Pennola / Officiant: Benjamin Maron / DJ: Party Up Productions / Ceremony Music: Phillip Racz / Pianist: Joe Rubenstein / Stationery: Spencer Merolla, The Bride / Cider: Fairway Market / Gown: Melissa Sweet / Bridesmaid's Gowns: Jenny Yoo / Makeup: Mariella Smith-Masters / Hair: Sherry Stinger
Jenny Yoo
and
Gulnara Studio Photography
are members of our Little Black Book, Love what you see? Take a look at their portfolios.

Jenny Yoo
VIEW PORTFOLIO
Gulnara Studio Photography
VIEW PORTFOLIO
For more information on how Little Black Book Members are chosen click here.
Jenny Yoo is a member of our Look Book. For more information on how members are chosen, click here.
Though we legitimately love them, Jenny Yoo SOCIAL and Jenny Yoo BRIDAL are advertisers on Style Me Pretty.