Location
Categories
Tags
Designers
Vendors
Venues
Style
Colors
As if I wasn't already head-over-heels in love with Cape Cod, here comes a stunner from Samantha Melanson Photography that exudes New England charm! A classic navy and green palette-with pops of pink-was carried through from the preppy day-of paper goods by A Seaside Invitation to the jaw-dropping peony bouquets by Fancy Flowers…and how cute is the BHLDN clamshell ring holder?! There are so many more thoughtful details to feast your eyes on right here!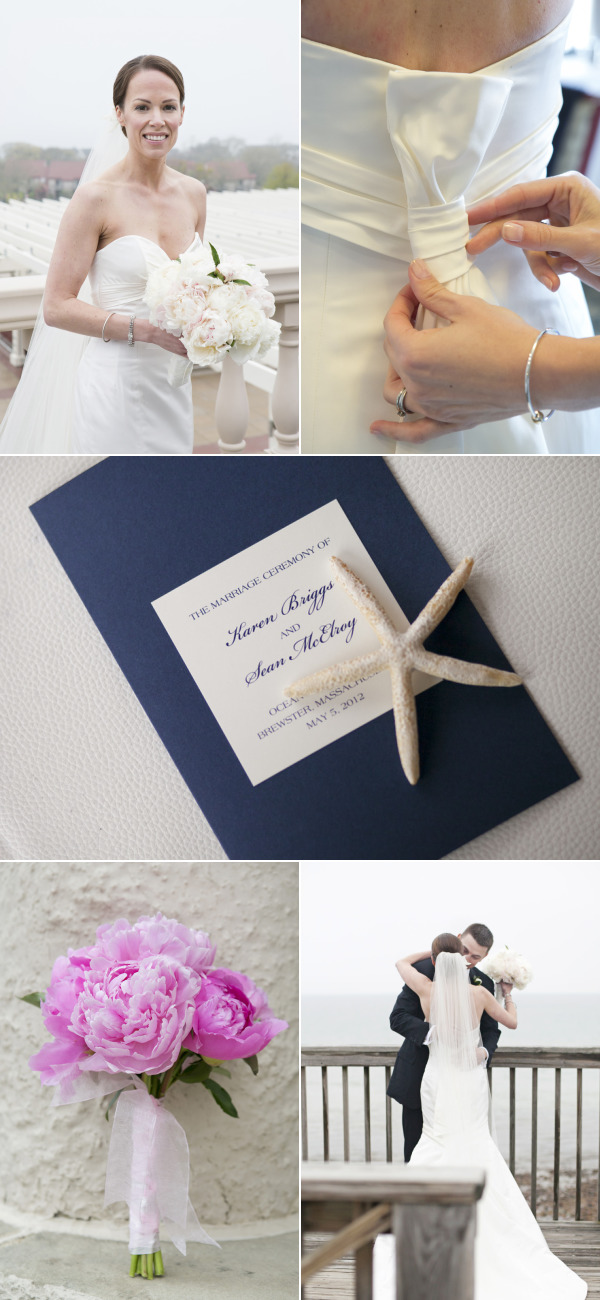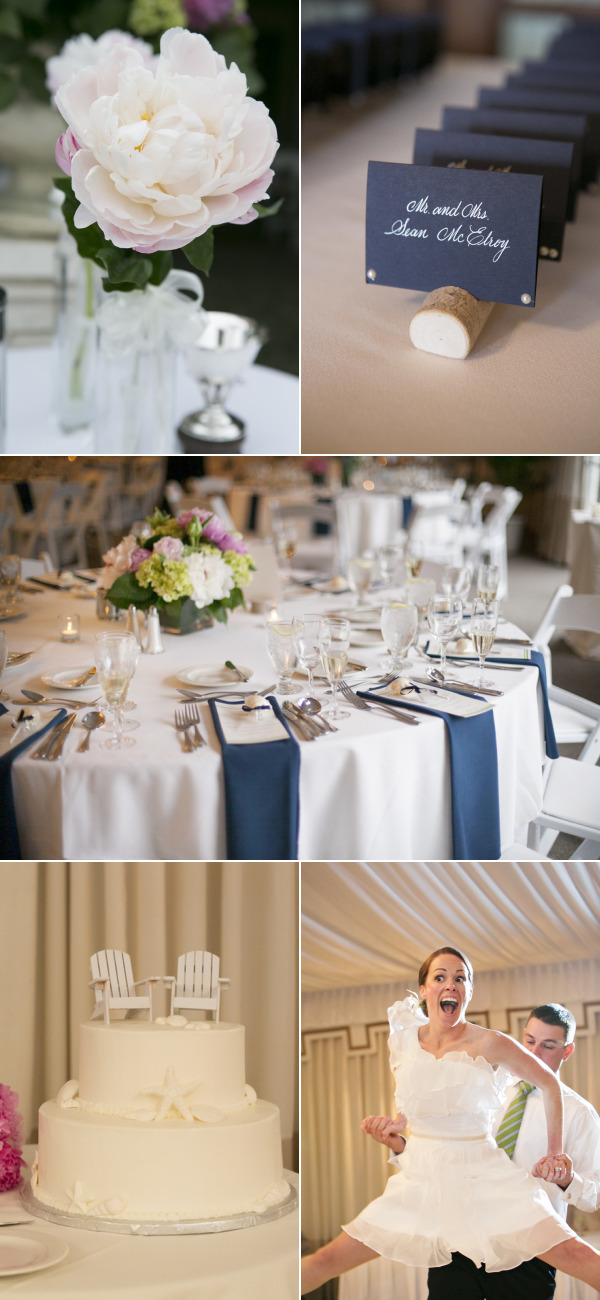 Click here for the FULL wedding!
From the Bride… Growing up, I wasn't the girl who envisioned her dream wedding. However, once Sean proposed in the Dominican Republic, I was immediately brought back to my childhood as I thought about my journey to finding the man of my dreams. That journey to this amazing day was my inspiration for my vision of our wedding celebration. It was important to me that every detail was representative of something meaningful or of a special moment that led us to finding each other. Then tragedy struck. In early June 2011, a tornado swept through my hometown and caused severe destruction to an area of Massachusetts for which this weather is a foreign concept. The tornado took with it a beloved white birch tree that was always a symbol of childhood to me when I returned home. Therefore, I used white birch tree as a detail throughout the wedding to hold our table cards and the guests place cards to honor our journey to each other.
My grandfather, through his life lessons, has made a large impact on the woman I am today. For the past fourteen years, my family has honored his memory through one of his passions: we have held an annual charity golf tournament. In addition, he would take his family and our family growing up would vacation in the lower Cape Cod area. My parents now own a home there. Therefore, our choice of location at a golf resort in Brewster, Massachusetts and the beautiful Ocean's Edge Mansion was a no-brainer for us. I come from a golf-loving family and had introduced Sean to game when we were dating. It is a hobby we both enjoy together. I had often driven by the mansion and resort in admiration of the grounds and was thrilled when we decided that was the spot for us. We organized a golf outing the day before of course. My grandmother made the white chocolate golf ball lollipop favors.
In addition to his indirect influence on the location, my grandfather always preferred handkerchiefs over tissues. My mother gave me one of his to be my something old at my bridal shower accompanied by a tearful poem. I carried this with my bouquet to honor him. In addition, I had personalized handkerchiefs embroidered for my mom, dad, grandmother and groom, expressing how special they each were to me on this day of joy. Sean is a huge sports fan and former baseball player so his love of the Red Sox cannot be contained. Therefore, I was thrilled when our best man honored us with a Red Sox home jersey signed by our entire wedding party. The number was representative of our wedding date, the jersey of their friendship and fond memories and the signatures assure us our friends and family will always be close. I surprised Sean with the groom's cake represented as baseball cupcakes. I'm a New York Yankees fan and wanted to acknowledge the rivalry in our union.
It was important to Sean and I that not only do we honor pastimes but also create an heirloom or tradition for our family. We were drawn to the loving cup ceremony which comes from the Celtic tradition. We drank to our past, present and our future. We found the loving cup at an antique shop on the famous Route 6A across from our venue. We hope to honor our anniversary each year with the cup and eventually pass it down. Overall, I'm proud and thrilled of how our celebration turned out and that we were surrounded by all of loved ones and honored those loved ones that couldn't be with us. I'm so thankful and grateful to all of the vendors and people that worked with us to truly make this the celebration of our dreams!
Wedding Photography: Samantha Melanson Photography / Ceremony: The Terrace at Ocean Edge Mansion / Reception: BayPines Pavillon at Ocean Edge Resort & Golf Club / Event Design: The Bride + Jamie Bohlin of Cape Cod Celebrations / Event Planning: Jamie Bohlin of Cape Cod Celebrations + Jennifer McAnaw at Ocean Edge Resort & Golf Club / Floral Design: Fancy Flowers / Officiant: Rev. Faith Lavender / Cinematography: The Bride's Cousin / Wedding Cake + Cupcakes: The Casual Gourmet / Wedding Invitations + Coasters: Steel Petal Press / Programs + Table Cards: Kendra Wallin of A Seaside Invitation / Postcard Reply Cards + Save-the-Dates: beyond design / Calligraphy: Rose Bonjourni / Coasters: Steel Petal Press / Ring Holder: BHLDN / Straws: Crate & Barrel / Golfball Lollipop Favors: The Bride's Grandmother / White Birch Card Holders: The Vermont Branch Company / Embroidered Handkerchiefs: Chrissy's Creations / Wedding Dress: Rivini via Solutions Bridal / Bride's Wedding Shoes: Stuart Weitzman / Bride's Second Dress: Jill Stuart / Bride's Dance Shoes: J.Crew / Bride's Veil: A busy mother / Bride's Bracelets: Borrowed from the Matron of Honor's Grandmother / Bride's Bouquet Handkerchief: Her Grandfather's / Hair + Makeup: Lisa George / Bridesmaids' Dresses + Belts: Simple Silhouettes via Bella Bridesmaid / Bridesmaids' Necklaces: Blue Sunflowers / Bridesmaids' Bracelets: Alex & Ani / Groom's Suit: Brooks Brothers / Groom's Shoes: Bruno Magli / Groom's Fedora: Biltmore / Cufflinks: Konstantine / Ties: Thomas Pink / Groomsmen's Socks: Brooks Brothers / Ring Bearer's Outfit: Brooks Brothers + Nordstrom
BHLDN, J.Crew and Rivini are members of our Look Book. For more information on how members are chosen, click here.
The Casual Gourmet
and
Steel Petal Press
are members of our Little Black Book, Love what you see? Take a look at their portfolios. For more information on how Little Black Book Members are chosen
click here
.
The Casual Gourmet
VIEW PORTFOLIO
Steel Petal Press
VIEW PORTFOLIO