I love loft weddings. And loft weddings at Sodo Park? Well, they are just pure magic. With twinkling lights and flowers from Loves Me Flowers, this space was transformed into a gorgeous affair for this stylish couple, and you'll want to get lost in all the lovely right here in the full gallery.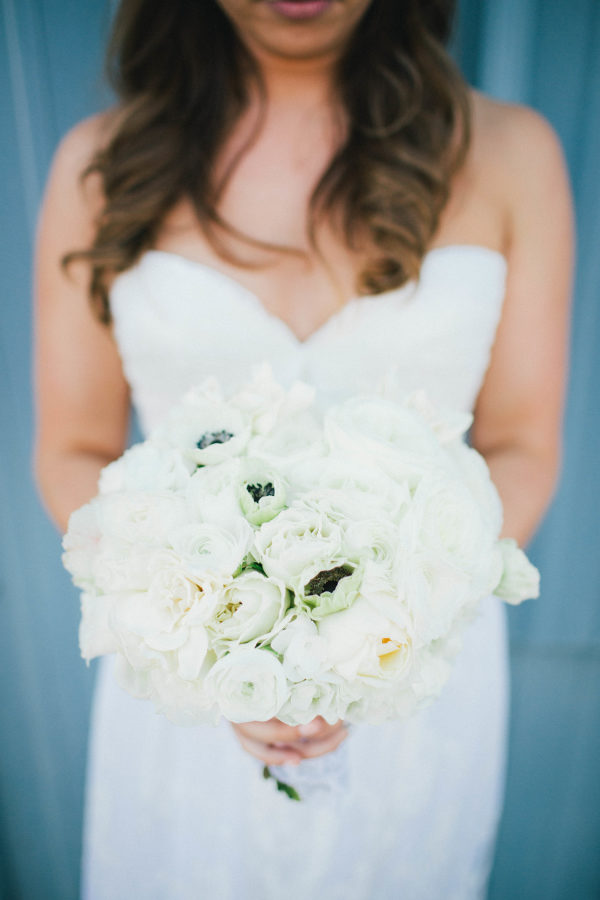 From the Bride…My husband and I were married at the fantastic and award-winning Sodo Park venue in Seattle, WA on September 21st, 2013. I knew from the day I got engaged (okay, maybe a few months before) that the highly coveted Sodo Park was the one and only location for our wedding. It's easily accessible location in downtown Seattle, paired with its unique mix of rustic and modern accents perfectly complimented our style as a couple, and we were both so excited to bring our friends and family together for one big party in this beautiful space. Sodo Park is owned by Herban Feast, another award-winning vendor in Seattle for top wedding reception caterer, so choosing the food for our special day was a breeze. Herban Feast specializes in pairing fresh and local ingredients which was important to us, as we wanted to give our out of town guests the true Seattle experience. Herban Feast and Sodo Park's staff was amazingly accommodating, helpful, and professional throughout the entire process. Reese Rowe, Herban Feast's Sales and Event Services Manager, was by my side from the day I inquired about Sodo Park to the actual wedding day (about 16 months). Reese met with us on multiple occasions – with my parents, my in-laws, and even met me at a local linen company to discuss linen possibilities. She provided excellent vendor referrals and was always available.
Once we had the specifics nailed down, it was time to get immersed in the details of our dream wedding. Our priority was to get all of our family and friends together and just have one big celebration. We wanted our wedding to be a reflection of us, and not feel too stuffy. The husband and I agreed on a neutral pallet (both of us have a slight aversion to COLOR) and immediately leaned towards monochromatic shades of grey and white which would contrast with the venue's wood tones. We wanted to play off of the rustic wooden atmosphere of the venue, and did so by including wood rounds in our centerpieces which were supplied by our florist, and making our own escort card holders out of birch logs purchased online. We also made our own table numbers made out of wood 2×4 and galvanized nails (both DIY projects were a labor of love to say the least).
Our florist made my dreams come true in more ways than one. She put my dreams into reality by creating two different combinations of centerpieces which had just the juxtaposition I was looking for with the use of different votive's, white hobnail accent pieces and flowers (this stemmed from all of my bridesmaids having a different style dress). She also created two huge arrangements of baby's breath which greeted the guests as the entered and lined the isle entrance during the ceremony; the arrangements were then moved to accompany the 2 large buffet tables during the reception. My bouquet included anemone's (my favorite flower) as an accent and was packed with full white blooms such as ranunculus, garden roses, gardenias, and hydrangeas. The bridesmaids bouquets were made up of a similar combination of flowers – all white, my favorite!
I purchased my dress at The Dress Theory in Seattle, WA – which is a new boutique in the area which carries dresses for unique, bohemian, and/or fashion forward brides. The dress I chose was "Swell" by the ever talented Sarah Seven. I went for a subtle silver lace shoe by Badgley Mishka. My veil was a combination of my late mothers and my mother in law's. I wanted to wear my mom's veil as a tribute to her, but it turned out to not be the right color with my dress. My mother in law graciously offered her very own cathedral length veil after finding out about my dilemma, and sewed a few applique pieces from my mom's veil to the clip of her veil so I could have a piece of both of them. My mother in law also secretly sewed an applique from my mom's veil to the inside of my dress as well – it was a special reminder that she was always with me on my wedding day.
Our wedding day wouldn't have been so magical without the help of our amazing day of coordinator, Laura Gram of Simplicity Events, LLC. At first I thought I could do it all myself, but I was quickly persuaded by friends and family that AT LEAST a day of coordinator was worth the money. We met with Laura a year in advance, and fell in love with her. She was our biggest fan from day 1 and wanted our special day to be exactly what we envisioned it to be. She touched base with me every month, reminded me of tasks that I follow up on, and gave seasoned advice throughout the entire process. Laura assisted with setting up our "cookie table" which we used in place of a wedding cake and dessert table. Bob's mom is known for her delicious "Sara Cookies" which a small chocolate chip cookies, a secret family recipe. The cookies are well known to our family and friends, and we were SO excited when she agreed to our crazy idea of making over 600 Sara Cookies for the wedding guests to enjoy as dessert and to take a home with them. Sara and I scoured antique shops in the area for vintage cookie tins serve the cookies in, and Laura set up the table magnificently with the help of a vintage doily garland I purchased on Etsy and Sara's collection of white handkerchiefs. Herban Feast created vanilla and salted caramel ice cream which was served in little mason jars to accompany the cookies, and all of it was A HIT. There were hardly any cookies leftover, with the exception of 1 bag which we passed on to our shuttle bus driver for his help transporting guests to and from the downtown hotels and venue throughout the night. Having Laura there just put me, my bridal party, and our families at ease and enabled us all to enjoy ourselves knowing that she had everything handled and progressing smoothly.
The music for the ceremony and reception was provided by the esteemed Michael Benson Band who are local to Seattle. Michael Benson Band played at my brother and sister in-laws wedding, and were a HUGE hit. We knew we had to have them for our wedding, and thankfully, their 5 piece band was available the day of our wedding. We were lucky enough to meet with Michael at his home a month before the wedding and discuss all song options for our wedding. He even sat down and played samples on his piano which blew our socks off. The Michael Benson Band did an amazing job of keeping the party going throughout the night playing anything from Journey to Lady Gaga to Sinatra. Michael played his guitar and sang Jack Johnson's "Angel" for our processional, "Falling Slowly" by Glen Hansard the bridal entrance and Sinatra's "Come Fly With Me" on the piano for the recessional. They even snuck in Earth Wind and Fire's "September" in honor of our wedding date… "Do you remember the 21st night of September? Love was changing the mind of pretenders, while chasing the clouds away".
Last but absolutely not least was our spectacular photographer, Alyssa Wilcox Photography. Alyssa was the only photographer we even met with, the 3 of us had an instant connection right away. We met with her initially to set up a date for our engagement photos, and after seeing the final result there was no question she would photograph our wedding. Alyssa had never photographed a wedding at Sodo Park and was so enthused by the opportunity, it made Bob and I that much more excited for the day to finally arrive. Alyssa is so creative, easy to work with and has an innate eye for detail. Our styles complement each other and the result was insanely beautiful portraits and photographs that we will cherish forever. It was so much fun going through the 700+ photos that she sent, because it brought back memories from the day that had slipped my mind in all the chaos.
Photographer: Alyssa Wilcox Photography | Wedding Dress: The Dress Theory | Flowers: Loves Me Flowers | Ceremony Venue: Sodo Park | Reception Venue: Sodo Park | Bridesmaid Dresses: Donna Morgan Via Nordstrom | Catering: Herban Feast | Band: Michael Benson Band | Mens Attire: Tuxedo Club | Day-Of Coordinator: Simplicity Events, LLC | Makeup: Ashley Meadows - Flawless Beauty Bars | Rentals: Rented Elegance
Donna Morgan is a member of our Look Book. For more information on how members are chosen, click here.