We always get a little giddy when a gorgeous outdoor affair comes across our desks, but when that same picture perfect love-fest is the wedding of one of our beloved LBB members, we're like kids in a (wedding) candy store. And when said celebration is also captured by three (yes, 3) amazingly talented photographers, serious squealing ensues. We couldn't be more thrilled that the beautiful Breanna, co-owner of the fabulous anna bé bridal boutique in Denver, chose to share her September I-do's right here on SMP. On top of being incredibly sweet, Breanna's a girl who really knows the biz, so when it came to choosing her vendors she entrusted her big day to an all-star line up of true artists. With photography by Jenna Walker Photography, James Christianson Photography, Otto Schulze Photographers, planning by Calluna Events, and florals by Plum Sage Flowers this is Rocky Mountain romance at its best. It is effortless and refined. It is elegant and organic and these images truly capture the spirit of this carefree couple. In fact, there are so many we had to break it into two posts. The reception is coming up shortly. Congratulations Bre + Ben! We're honored to share your beautiful day with our readers! XO
The following images are by Jenna Walker Photography: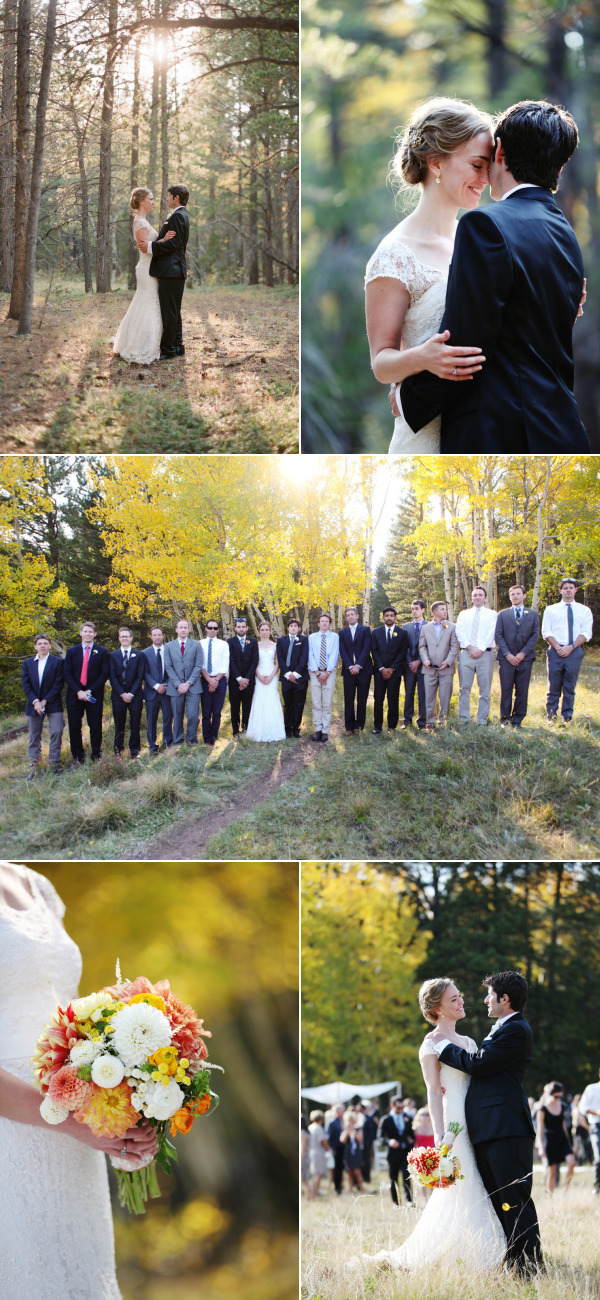 The following images are by James Christianson Photography:

The following images are by Otto Schulze Photographers:

The wedding of Breanna (co-owner of anna bé bridal boutique in Denver, CO) & Ben took place on September 21, 2012.
We had a very simple wedding with the beauty of nature and delicious, local food playing important roles. The groom owns a local food company in Colorado (MM Local) so the expectations were high!.
For the ceremony, we bussed everyone up an hour outside of Boulder where we had found the perfect meadow with an aspen grove (after looking at a good half dozen others first) We were lucky; the aspen leaves were turning and it was a gorgeous day. After the ceremony we invited our guests to enjoy the beauty of The Meadow while sipping on a beer or two. Then we headed back down to town for our reception at the Kitchen in Boulder. The food was exceptional and the company second to none. It was one of the best meals I've had in my life (and I married a foodie, so I've had a lot of amazing meals) and by far the best meal I've had at a wedding – EVER.
As favors we gave a jar of MM Local peaches and for part of our dessert we actually had fresh peaches from a local farm that Ben works with from the western slope.
We were extremely fortunate to work with (at least what I think is) the best team in Colorado. The photography is gorgeous and I love how the artistic style of the images (what lucky girl gets three AMAZING photographers?). One of my favorite things about the wedding was working with these crazy-talented, kind, amazing people. To see how each photographer interpreted each moment, each landscape, each tiny detail so uniquely was really awe-inspiring.
I couldn't have sanely survived the wedding planning process without the help of Heather at Calluna Events, I'm so glad I had her there to listen to me whine, help problem solve and tell me everything was going to work out great (and make sure everything worked out great -which it did!). I slept better at night knowing she was on my team.
I was in love with my flowers from Plum Sage! I would carry around that bouquet every day if I could. The flowers and arrangement were just gorgeous! The Dahlia's were picked at their peak right here from a local Colorado flower farm.
As for the style or inspiration for the wedding, I really love the juxtaposition of nature and what I'm going to call 'fancy'. We drew a lot of the inspiration from The Kitchen decor itself. I love the wooden, raw tables and brick walls with the metallic chairs and crystal chandeliers. So largely, I tried to do that in The Meadow as well with the wedding party wearing metallic colors and traditional dress. We really went for simplicity in details – we both have crazy work schedules and it was all we could do to figure out the big picture and logistics of the wedding. In the end, I don't think anyone (expect maybe the photographers) missed the small details. We really just tried to make it a fun experience for our guests through the adventure of going to some unidentified meadow, taking a little 'hike' in nature and then enjoying each other's company around delicious food. It was about the awesome community we have in our lives and celebrating bringing them together.
To continue the celebration, the morning after the wedding about 40 of us all met up at the Boulder Farmers Market for a local breakfast and cup of coffee and then we all headed to Crested Butte for part 1 of our honeymoon. And quite the show awaited us in Crested Butte – the aspens were at their peak and looked so incredible! We rented a couple of houses in town and also on the mountain for our family and guests to stay in. It really was such a gift to share one of our favorite places in Colorado and one of my favorite things (turning aspen trees) with so many people that we hold near and dear.
Thank you to everyone who helped Ben and I during this process. To our wonderful parents, our amazing families & friends, our team of wedding professionals, our business partners (anna and jim) – we thank you from the bottom of our hearts.
Wedding Photography: Jenna Walker Photography + James Christianson Photography + Otto Schulze Photographers  / Ceremony Venue: a meadow outside of Boulder, Colorado / Reception Venue: The Kitchen, Boulder / Event Planning: Calluna Events / Floral Design: Plum Sage Flowers / Cake + Cheesecake: Living the Sweet Life, Denver / Invitations: DIY by Bride / Wedding Gown: Lela Rose via anna bé bridal boutique / Hair Accessories: Sara Gabriel / Hair Stylist: Jacqui Jolly at Side Door Salon / Favors: MM Local Foods / Groom's Custom Suit: Metroboom / Photobooth: The Traveling Photo Booth