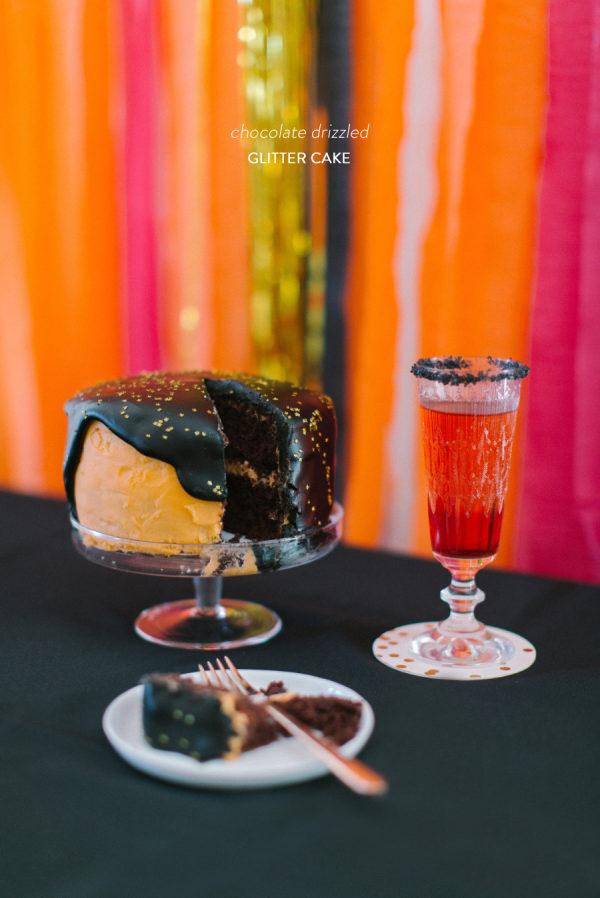 Jacquelyn
Chocolate Drizzled Glitter Cake
prep time
1 Hour/s
cook time
35 Minute/s
total time
1 Hour/s 35 Minute/s
Serves 8
Ingredients
Your favorite dark chocolate cake recipe, or store bought cake mix (we don't judge!)
1lb powdered sugar
1 stick butter
4 tbs milk
Orange food coloring
Black food coloring
9 oz chopped bittersweet chocolate
1 cup heavy cream
2 6" cake pans
Edible gold glitter stars
Whisk
Instructions
Bake cake layers according to your recipe and let cool.
In a mixing bowl, beat together butter, sugar, milk, and orange food coloring. Spread a layer of frosting on one cake layer, then top with the second layer of cake. Frost the cake and use a spatula to smooth sides as completely as possible.
Place the chocolate and a dab of black food coloring in a large mixing bowl. Pour the cream into a small saucepan and bring to a boil on medium heat. As it reaches a boil, pour over the chocolate and whisk until smooth. Allow the ganache to cool slightly, then gently pour on the center of the cake. Sprinkle gold glitter on the ganache and let cool before serving.
Ruth Eileen Photography
is a member of our Little Black Book, Love what you see? Take a look at their portfolios. For more information on how Little Black Book Members are chosen
click here
.