Nothing says Christmas like a classic Gingerbread house. So, we crafted this easy DIY kit that can be packaged and sent or delivered to loved ones. OR gifted as favors with our SMP at HOME Holiday Soiree. It makes an excellent gift for friends with little kids (…or friends that are simply kids at heart!). With minimal funds and even less time, you can knock a few of these out in an afternoon all the while scratching several several names off this year's "nice" list! A huge thank you to Heidi at White Loft Studio for making them look in photos just as gorgeous as they looked when we were tearing them apart to devour them.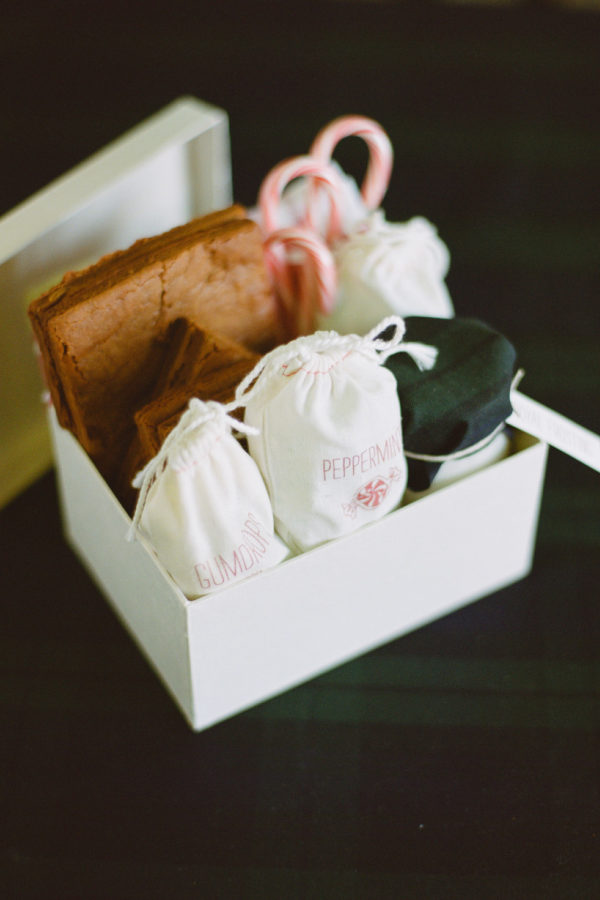 Wilton Gingerbread House Cutter Pieces
Craft Box via
Paper Source
Baker's Twine
Muslin Bags via
Paper Source
Iron-on Labels (
download here
!)
Iron Transfer Paper
Printable Labels (
download here
!)
White Cardstock
Instruction Box Wrap (
download here
!)
Candy: Peppermints, Gumdrops, M&Ms, & Candy Canes
Ball Jar & Scrap of Plaid Fabric
Scissors
Scotch Tape
Step 1: Bake the gingerbread & cut out the house pieces, let cool. Stack the pieces and tie with baker's twine.
Step 2: Mix the frosting & put in the ball jar. Cut a square of plaid fabric a little larger than the top of the jar. Cover the lid of the jar & tie with twine.
Step 3: Download the printable labels & print out on the cardstock. Cut out along the dotted lines. Poke a hole in one end, and tie onto the jar & gingerbread.
Step 4: Download the iron-on labels & print out on the iron transfer paper (following the instructions included with the paper). Cut out the labels and place face down on the muslin bag. Iron the labels for about one minute on high heat (no steam!), and peel off the wax backing.
Step 5: Fill the bags with candy & tie closed. Tie the candy canes with baker's twine & label.
Step 6: Arrange all the ingredients for the house in the box. Print out the the instruction wrap. Trim the excess paper & wrap around the box and tape together. Mail out to your family & friends before Christmas so they can enjoy this holiday tradition!
Gingerbread
1 cup butter
1 cup granulated sugar
1 cup molasses
4 1/2- 5 cups flour
1 tbs ginger
1 tsp cinnamon
1 tsp nutmeg
1 tsp baking powder
1 tsp salt
Melt butter in a large saucepan. Add sugar & molasses, stir until sugar is dissolved. Remove from heat & cool. In a large bowl, sift 4 1/2 cups of flour, then add the rest of the dry ingredients and mix together. Form a well in the center of the dry ingredients and pour in the warm butter mixture. Blend well, until dough is too stiff to stir. If the dough feels too soft, add the remaining 1/2 cup flour. Knead dough with hands into a ball. Cover with plastic wrap and place in the refrigerator to rest for at least one hour. Preheat the oven to 350º. Roll the ball of dough out on an un-greased cookie sheet to about 1/4″ thick. Lay out the cookie cutters on the surface to make sure you can fit 2 of each shape on the sheet, but don't cut yet. Bake for 12-15 minutes. Cut out the gingerbread house shapes with the cookie cutters. Let cool on sheet for 2 minutes, then use a large spatula to move to a cooling rack.
Royal Frosting
2 egg whites
2 tbs lemon juice
1/8 tsp cream of tartar
1/8 tsp salt
3 1/2 cup powdered sugar
Place 2 egg whites in a large bowl. Sift 3 1/2 cups powdered sugar, add the cream of tartar & salt. Beat slowly on low speed until the mixture is smooth & creamy. Stir in lemon juice until the mixture is the consistency of whipped cream. If the icing is too thin, add in more powdered sugar 1/2 cup at a time until the desired consistency is reached. This icing hardens quickly, making it perfect for assembling the house, but it should be put in a sealed container quickly to prevent premature hardening.
Photography: White Loft Studio / Design + Styling: Style Me Pretty
White Loft Studio
is a member of our Little Black Book, Love what you see? Take a look at their portfolios. For more information on how Little Black Book Members are chosen
click here
.