WASHINGTON METROPOLITAN AREA
Entertainment
Our carefully selected talented dj's and musicians are prized for their entertainment sophistication. They are also experts at helping you customize your music selections to ensure your wedding party is a celebration that perfectly reflects your personality, style, and theme.
MyDeejay
MyDeejay is a boutique-style entertainment firm offering an exclusive roster of creative and professional disc jockeys. Our sophisticated, unobtrusive performing style and impeccable customer service have earned us the ....
PORTFOLIO
Bobby Jo Valentine
A 5-star rated wedding musician with soulful, romantic acoustic music (guitar and ukulele), Bobby will make your wedding unforgettable. Perfect for ceremony, cocktail hr, and your first dance. Visit the website below for....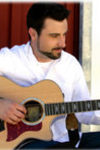 PORTFOLIO