CENTRAL VA
Fashion Accessories
Our accessorizing members know it?s all about the details - headpieces, belts, veils, handbags and footwear?.completing the perfect ensemble starts with the little things! Our experts' unique and flattering designs will help you express your individual style to complete your perfect bridal look.
Ivory & White Bridal Boutique
Ivory and White is a boutique wedding shop located in the heart of Mountain Brook, Alabama. We carry hand-picked designer wedding gowns and accessories.
PORTFOLIO
Kira Kira by Suz Somersall
KiraKira specializes in unusual but classic engagement rings, weddings bands and bridal party jewelry. Elegant forms, organic accents and superb technique and styling define the distinctive collection of bridal jewelry.....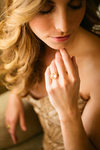 PORTFOLIO