GLASGOW
Fashion Accessories
Our accessorizing members know it?s all about the details - headpieces, belts, veils, handbags and footwear?.completing the perfect ensemble starts with the little things! Our experts' unique and flattering designs will help you express your individual style to complete your perfect bridal look.
Corrine Smith Design
Corrine Smith Design is a multi award winning bridal accessories company based in Scotland with a global reach, shipping to destinations worldwide. All of our products are handmade by designer Corrine Smith with meticul....
PORTFOLIO
Fourtane
Beauty, fine craftsmanship, uniqueness and value are the cornerstones of Fourtané's philosophy on buying and selling jewelry and watches. Each piece is personally selected by John Bonifas from private collections, and es....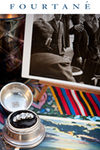 PORTFOLIO