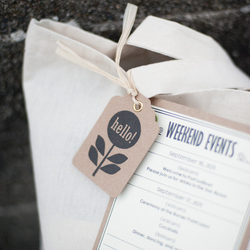 Welcome Gifts
Looking for a unique way to express your appreciation for your guests? Our members offer spectacular gift options that can be personalized to express the theme and personality of your most important event.
Select Sub-Location:
New York
New York City
NYC display vendors who service all 5 boroughs. To view vendors who service a specific borough (e.g. Manhattan/Brooklyn), please select from the menu below.
More Vendors That Service This Region:
Northern California
Northern California includes vendors who provide service to all of the following areas: , Bay Area, Carmel + Monterey Bay, East Bay, Lake Tahoe, Northern Central Coast, Sacramento, San Francisco, South Bay Silicon Valley, The Peninsula, and Wine Country ~ Napa + Sonoma.
Are you a vendor interested in being featured in our Little Black Book?