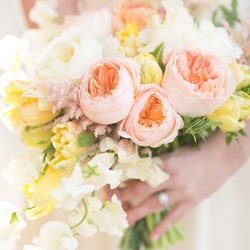 PITTSBURGH
Florals
Flowers are one of the most important design elements of your celebration. Our wedding floral designers, highly trained in all aspects of floral art, know how important it is to bring forth your vision. They will work closely with you to design, select and arrange every single stem to absolute perfection.
Lilli-Maeg Floral Specialties
The scent, the color, and the perfection of nature inspire my passion for floral art. Your special occasion deserves the best. You can expect exquisite detail and beautiful, unique designs. Simply stated, I love what I d....
PORTFOLIO
Rachel Cho Inc.
With clean style and design being the key focus in all of Rachel Cho Floral Design's creations, Rachel expresses her art and vision through colors, textures, and the graphic structure of flowers. Rachel's floral expertis....
PORTFOLIO