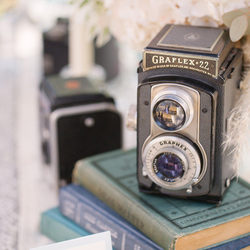 PHILADELPHIA
Cinematography
Cinema is one of the best ways to preserve and document your wedding day. Our cinematographers are beloved for their ability to tell the beautiful emotional truth of your story. Your most heartfelt not-to-be missed moments, the voices, the movement, the laughter and tears of joy will all be expertly edited to tell your most inspiring love story. More than a keepsake, this treasure is a family heirloom.
Lucky Productions Cinematograp...
Lucky Productions has a fresh outlook on wedding cinema and is a small company that approaches each client as an individual documentary film project. This ensures that your wedding film will be uniquely yours, infused wi....
Blossom Productions
Led by a team of creative and talented filmmakers, we preserve your unique story while capturing all of the details of the day. Highlight videos, love story and event coverage services in both HD video and vintage Super ....
Matt Stambaugh Media
From the sweetest place on earth (Hershey, PA) and beyond, Matt Stambaugh and his team travel to create unique films for every unique couple. Pre-planning from start to finish, helps create clean cut and original films.
Lovesick Inc.
Our clients stray from the traditional. They want cool, inspired work with a personal touch. It's us, Tom and Jon, and our most creative and talented friends. We bring a brand new spin on wedding films, DJs, expos, and e....
CinemaCake Filmmakers
CinemaCake has been voted Top 25 in the world by other professional event filmmakers for 3 years in a row. Read the testimonials on CinemaCake.com and spend some time in CinemaCake's gallery to see why CinemaCake has a ....
Tweed Weddings
Tweed Weddings is a boutique video production based in both Philadelphia and NYC. We are staunch proponents of fly on the wall style shooting and opponents of cheesiness.
Brighter Lights Media
Award-winning cinematography team whose focus is on unique storytelling and fostering meaningful client relationships. Our short form wedding films are a truly modern, cinema experience that'll last forever.