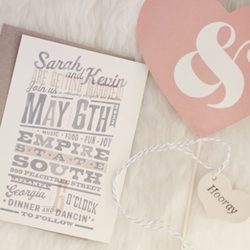 Cincinnati
Invitations
Abby Larson is an invitation designer herself, so paper arts have a very special place in her heart. You can count on our handpicked invitation members to exceed your expectations with their design expertise. Carefully considering your unique theme, palette, and paper selection details, our invitation artists will create an unforgettable and beautiful first impression of your upcoming nuptials.
Giddy Ink
We're dedicated to creating supremely stylish invitations that unveil each couple's wedding vision and personal style. We design each piece with time and love and believe details are never lost. In addition to ....
PORTFOLIO
Five Dot Design
Five Dot Design will bring fun, glamour and most importantly, your personal style into the design process. Each client is treated as a blank canvas and an opportunity to try something new, so we'll work togethe....
PORTFOLIO