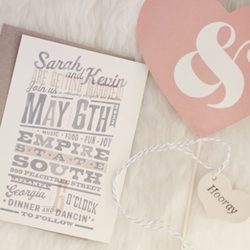 CHARLOTTE
Invitations
Abby Larson is an invitation designer herself, so paper arts have a very special place in her heart. You can count on our handpicked invitation members to exceed your expectations with their design expertise. Carefully considering your unique theme, palette, and paper selection details, our invitation artists will create an unforgettable and beautiful first impression of your upcoming nuptials.
Atheneum Creative
Atheneum was crafted with the idea of bringing stories to life through a unique branded experience. Established in 2011, the inspired boutique firm is largely focused on wedding and event branding (and all that other fun....
PORTFOLIO
Alissa Bell Press
The paper is just as important as the words written upon it. There is excitement in opening up a mailbox and finding an envelope shaped differently from all of its companions, its contents brimming with joy, love, and ex....
PORTFOLIO