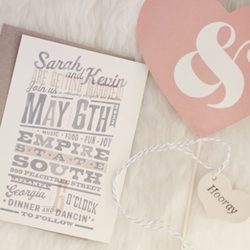 NEW YORK CITY
Invitations
Abby Larson is an invitation designer herself, so paper arts have a very special place in her heart. You can count on our handpicked invitation members to exceed your expectations with their design expertise. Carefully considering your unique theme, palette, and paper selection details, our invitation artists will create an unforgettable and beautiful first impression of your upcoming nuptials.
betsywhite stationery boutique
Betsywhite Stationery is a little studio with a big passion for design and happy customers. From wedding logos to invitations, cocktail napkins and Print-It-Yourself products, we've made many customers happy since we ope....
Swiss Cottage Designs
Swiss Cottage Designs is custom design studio based in Brooklyn, New York. Everything we create is tailor made for our clients using all original art and design. We offer both flat + letterpress printing and plenty of on....
Steel Petal Press
Steel Petal Press is unlike other design & letterpress studios. Our style mixes classic elegance with a vintage twist. We create beautiful, hand crafted stationery using reclaimed cotton paper with gorgeous texture and ....
A DAY IN MAY DESIGN
At A Day in May Design you'll find the perfect union – fabulously talented graphic designers and the beauty of letterpress printing. Whether you choose from our Signature or Custom Collections you can expect unparalleled....
Smock
Smock is an essential line of letterpress and foil stamped invitations and stationery, sustainably printed on their own bamboo paper. Their commitment to the environment affects everything they do, from their sustainable....
Kimberly FitzSimons Letterpres...
Kimberly FitzSimons is a boutique stationery company that specializes in the design of classically chic letterpress wedding invitations. Our stationery is known for its timeless appeal and simple elegance. We believe in ....
CHAUHIE
CHAUHIE (shaw-hee) is a couture design studio specializing in beautiful, custom personal stationery for life's BIG moments.
KAMAL
Ink. It's a love affair between paper, art and a good impression. Established in 2009, Kamal strived out to create authentic and vibrant stationery and invitations using foil, letterpress or offset techniques. Created on....
Bella Figura
Bella Figura offers over 300+ stylish letterpress and foil stamped invitation designs, superior service, and environmental artisan printing. Their vast collection consists of traditional, vintage and modern invitation st....
Anthony Brownie Flowers + Even...
For more than ten years we've created beautiful weddings that perfectly match our clients' sensibilities. We offer a truly unique palette of services: unidividually-designed and handcrafted stationery as well as exquisit....
Bliss & Bone
Meticulously created fashion-forward stationery and paper goods. Our Wedding Collections brand your event from letterpress to leather, and include a matching Wedding Website. Also offering completely custom solutions. Th....