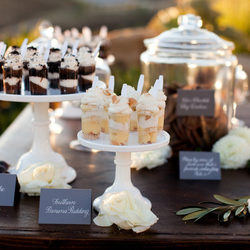 New York City
Dessert Tables
Our dessert table members are expert designers who transform a tabletop into a delicious and charming display of sweet treats according to your theme, style, and wishes. They thoughtfully present your carefully selected mini desserts, creating unique and inviting tabletops that will delight your guests and add an extra special culinary touch to your reception.
One Girl Cookies
Nothing says "This day is so very special" like sweets from One Girl Cookies: Buttercream Cakes with tiers to the sky, Cookie Bars with an indulgently delicious variety of petit fours and tea cookies, and beaut...
PORTFOLIO
Are you a vendor interested in being featured in our Little Black Book?