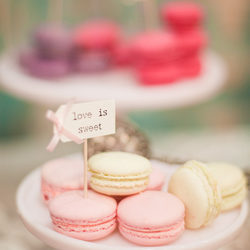 New York City
Dessert Favors
Our dessert specialists will wow your guests with their endless creative possibilities, from petite cupcakes and decadent chocolate covered strawberries to charming cake pops. You will love the presentation of our members' delightful dessert favors almost as much as your guests love sampling them.
Lake Champlain Chocolates
Crafted with all-natural ingredients, Lake Champlain Chocolates are made in small batches for exceptional freshness. Whether you're looking for elegant favors ready to give or wish to create your own special gi...
One Girl Cookies
Nothing says "This day is so very special" like sweets from One Girl Cookies: Buttercream Cakes with tiers to the sky, Cookie Bars with an indulgently delicious variety of petit fours and tea cookies, and beaut...
Cake Alchemy
Cake Alchemy confections are the epitome of elegant chemistry, fusing flavor, design and ambience to create what some have called edible works of art.
Are you a vendor interested in being featured in our Little Black Book?