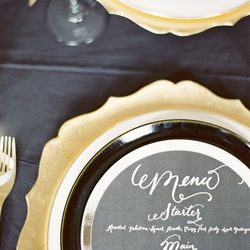 NEW YORK CITY
Calligraphy
The art of the pen. To truly distinguish your stationery ensemble, the art of calligraphy is a beautiful and timeless option. Our calligraphic artists are extremely talented and skilled members who know their ink craft. With a swirl of their pen, our experts will painstakingly hit the perfect note for your chosen font style.
Belles Lettres Calligraphy
My goal is simple - to provide clients with the finest calligraphy lettering and top-notch service. From traditional wedding invitation calligraphy to avant-guard envelope addressing, Belles Lettres Calligraphy will prov....
Just Write Studios
At Just Write Studios it's our goal to exceed your expectations- each and every time! We provide calligraphy and hand-engraving services for clients nationwide. Our fast turn around times and reasonable prices make us a ....
Allison R. Banks Designs
Custom monograms, invitations, and calligraphy designs by Allison R. Banks set a beautiful, unique tone for your wedding day! We'll create each hand-drawn piece to reflect your style and personality. Let us take the det....
MM Ink
MM Ink is the home of exquisite hand-lettered calligraphy for invitations, monogram designs, envelope addressing and all other event calligraphy. By the hand of Moya Minns, each piece will be unique and infused with pers....
The Left Handed Calligrapher
Providing elegant to whimsical, custom hand-lettering for all occasions to set the stage for an unforgettable, memorable celebration. The font options are endless; whether chosen from a portfolio or custom designed from ....
Laura Hooper Calligraphy
With each graceful curve of the pen, our hand-lettered calligraphy adds elegance and sophistication, setting the tone for your dream wedding. Each envelope, invitation or place card is its own piece of art.
PenDance Calligraphy & Engravi...
PenDance offers fine hand calligraphy and computer calligraphy services nationwide. Our services include envelope addressing, invitation design, wedding maps, place cards, escort cards, table signs, and menu design. Hand....