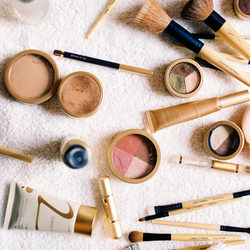 Beauty
You want to look stunning on your wedding day ? having a professional style your hair and makeup will ensure that you do. Our beauty service members know all the latest trends and styles for bridal hair and makeup and will indulge you in pre-wedding pampering while helping you get your skin in tip top shape for your runway walk down the aisle.
Select Sub-Location:
Philadelphia
Phoenix + Scottsdale
Pioneer Valley & The Berkshires
Providence
Queensland
Rhode Island
Shoreline
Singapore
South FL
South Jersey
Southeast Asia
Southern California
Southern California includes vendors who service the following areas: Inland Empire, L.A. Greater Metropolitan Area, Beverly Hills, Burbank + Glendale + Pasadena, Malibu, Santa Monica, Orange County, Palm Springs, San Diego, and Santa Barbara.
Spain
Texas
The Berkshires
The Midwest
The Midwest includes vendors who service the following areas: Illinois, Indiana, Iowa, Kansas, Michigan, Minnesota, Missouri, Nebraska, North Dakota, Ohio, South Dakota, and Wisconsin.
The Twin Cities
Toronto
United Kingdom
Vancouver
Victoria
Victoria + Vancouver Island
Virginia
Washington DC
Washington Metropolitan Area
Western Suburbs