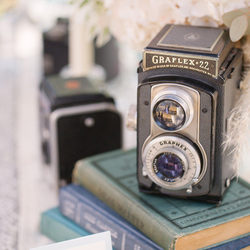 SOUTH JERSEY
Cinematography
Cinema is one of the best ways to preserve and document your wedding day. Our cinematographers are beloved for their ability to tell the beautiful emotional truth of your story. Your most heartfelt not-to-be missed moments, the voices, the movement, the laughter and tears of joy will all be expertly edited to tell your most inspiring love story. More than a keepsake, this treasure is a family heirloom.
CinemaCake Filmmakers
CinemaCake has been voted Top 25 in the world by other professional event filmmakers for 3 years in a row. Read the testimonials on CinemaCake.com and spend some time in CinemaCake's gallery to see why CinemaCake has a ....
Lucky Productions Cinematograp...
Lucky Productions has a fresh outlook on wedding cinema and is a small company that approaches each client as an individual documentary film project. This ensures that your wedding film will be uniquely yours, infused wi....
CineMate Films
At CineMate we create bespoke, fun and heartfelt wedding films for happy couples worldwide. Filmed in HD and crafted to reflect the unique charm of each bride and groom, our films are the perfect way to capture those m....
Moetic Wedding Films
We love nothing more than telling couples stories on their wedding days. It's through our passion of creative filmmaking that we are able to uniquely tell each couple's story. Our primary focus is on connecting with each....