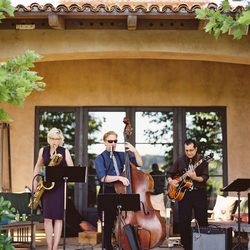 Central Jersey
Ceremony Music
Our extraordinarily talented professional musicians can perform your most important music selections. Flexible and reliable, our ceremony music members will set the perfect atmosphere for your dramatic walk down the aisle then transition smoothly into exactly the right tone for your guests to relax and enjoy the cocktail hour.
Lucy Music
Lucy Music is a boutique music company specializing in "anti-" wedding bands. Since 2003, this agency has provided live music to couples looking for alternatives to the usual wedding fare. Bandmember credential....
PORTFOLIO
Jay & Lee - Spanish | Classica...
Jay and Lee are an acoustic guitar duo specializing in spanish, flamenco and classical guitar. Their repertoire consists of original compositions and covers by the Gipsy Kings, Paco de Lucia, Ottmar Liebert and....
PORTFOLIO