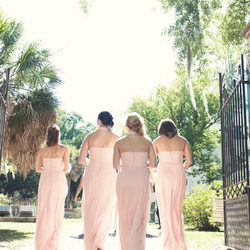 Portsmouth
Bridesmaid
Your bridesmaids will thank you for this shopping experience, which is more like a pre-wedding party. Our fashion specialists offer so many different complementing style lengths, colors, and fabrics, you will find the perfect dress to flatter every figure. And don't forget to throw an Album Party to celebrate when you get the gorgeous pictures back!
Everthine Bridal Boutique
Everthine is a charming bridal boutique for the unique and modern bride. Our designers are chosen based on their approach to non-traditional bridal and the ability to provide our brides with a one of-a-kind gow....
PORTFOLIO
Solemates
Solemates is a brand of finely curated shoe accessories. Their flagship line is the Solemates High Heeler(R), which is a patented, discreet, reusable heel protector that prevents high heels from sinking into th....
PORTFOLIO