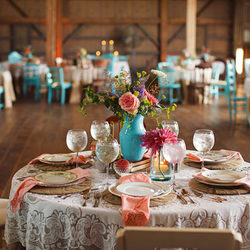 Metro Detroit
Event Planning
A talented event planner is a gift you give yourself...and then wonder how you ever thought you could manage without one. Our event planning members have years of coordination expertise under their belts, the right connections, and the experience to bring all your lovely details together. No matter what your dream wedding entails, they will exceed your expectations.
A Moment In Time Wedding & Eve...
Our business is events, our specialty is weddings, and no matter what the event we make it our biggest priority to provide you with attentive, personal service that surpasses all the rest. Bottom line, it's yo....
TwoFoot Creative
TwoFoot Creative promises to design a wedding intimately reflecting who you are as a couple. From beginning to end we tell your story, so guests leave with an even better sense of who you are and how amazing it....
Viva La Diva Events
That moment when the sun goes down, the cafe lights glisten, the band begins to play, and you're surrounded by all the people you love? Yeah, we live for that. We don't just plan events, we create experiences. ....
italyweddings
Over 15 years assisting international couples with event planning, Italyweddings creates unique, bespoke events, with every detail tailored to the couples wishes, dreams and budget. Our team has strong creative....