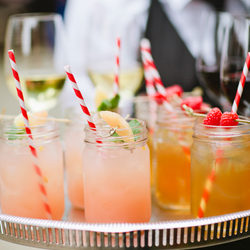 CATERING
ALL VENDORS
Nearby Vendors
Catering By Windows
Windows' culinary creations are abound with inventive interpretations and modern designs based on the finest traditions of American, regional, and international cuisine. We are committed to designing and executing flawle....
Federal City Caterers
A boutique company with big style! Each event is a reflection of our client's taste paired with our attention to detail. Our reputation is built on bold flavor, innovative design, and flawless execution.
Destination Vendors
Seasons Catering
Seasons Catering is a full service catering company dedicated to creating memorable events through its impeccable service, exquisite food, and creative presentations. Enjoy the convenience of our service along with the o....
Paradise Catering
Jon & Nancy from Paradise Catering are long-time dedicated Wedding caterers: Weddings are almost all of what we do! From our homegrown vegetables, heirloom tomatoes, herbs & flowers, to our unbeatable flair for presentat....
Other Vendors