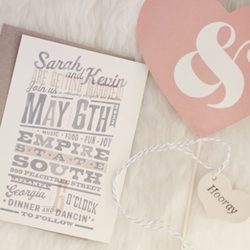 Kansas City
Invitations
Abby Larson is an invitation designer herself, so paper arts have a very special place in her heart. You can count on our handpicked invitation members to exceed your expectations with their design expertise. Carefully considering your unique theme, palette, and paper selection details, our invitation artists will create an unforgettable and beautiful first impression of your upcoming nuptials.
AJK Papery
More than pretty words on pretty paper, an invitation "sets the stage" for life's most joyous occasions. Through imaginative design, handcrafted details, the finest materials and an exclusive design reflective....
PORTFOLIO
Bradley & Lily Fine Stationery
Island Style, Redefined. Known for our fresh sense of style, we bring both contemporary sophistication and classic refinement to our stationery suites. Bradley & Lily Fine Stationery is a Honolulu-based design ....
PORTFOLIO