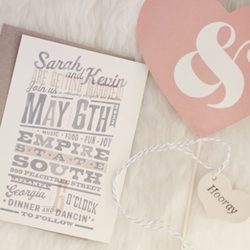 CHICAGO
Invitations
Abby Larson is an invitation designer herself, so paper arts have a very special place in her heart. You can count on our handpicked invitation members to exceed your expectations with their design expertise. Carefully considering your unique theme, palette, and paper selection details, our invitation artists will create an unforgettable and beautiful first impression of your upcoming nuptials.
Elizabeth Grace
With a strong sense of style and a talent for detail, Elizabeth Grace offers a sophisticated wedding invitation collection from the most talented designers. Owner Laura Manteuffel specializes in creating a fully coordi....
Lily Red Studio
Lily Red Studio, a boutique invitation design studio located in the charming Lincoln Square neighborhood of Chicago. We incorporate our knowledge of printing and our passion for paper with your vision to create one-of-a-....
Tweedle Press
Tweedle Press uses sustainable materials to create stylish letterpress printed paper goods, uniquely designed for your special day. Each invitation is hand crafted with love using a vintage press.
A Perfect Event
Boutique - Studio - Library Our magnificent design concept makes A Perfect Event the ideal place for event planning, shopping or just plain seeking style chic. Our service is highly personal. Stroll our boutique for the....
Steel Petal Press
Steel Petal Press is unlike other design & letterpress studios. Our style mixes classic elegance with a vintage, urban twist. We create beautiful paper products using reclaimed cotton paper with gorgeous texture and weig....
Hip Ink
Every wedding invitation tells the story of two individuals choosing to share their lives as one. Let your invitation be the reflection of your style, your dreams and your passions, interpreted through papers and design,....