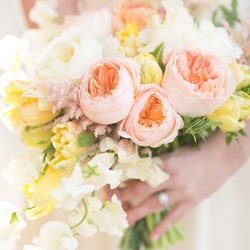 CHICAGO
Florals
Flowers are one of the most important design elements of your celebration. Our wedding floral designers, highly trained in all aspects of floral art, know how important it is to bring forth your vision. They will work closely with you to design, select and arrange every single stem to absolute perfection.
Dilly Lily
With a keen sense of what's happening on the runway and a deep understanding of the floral industry and its trends, Christine Noelle along with her design team translates each bride's vision into striking and textural fl....
Exquisite Designs, Inc.
From hotel ballrooms to rustic barns… whether eclectic, urban or ethereal, our floral designs help to set the tone for your wedding day. Have the wedding of your dreams fit your personality and style.
Rachel Cho Inc.
With clean style and design being the key focus in all of Rachel Cho Floral Design's creations, Rachel expresses her art and vision through colors, textures, and the graphic structure of flowers. Rachel's floral expertis....
Tuscany Flowers
Tuscany Flowers is a couture floral design company based in Florence, specializing in high-end, bespoke floral decor and working primarily with an international clientele. Our flowers are of the highest quality, as is ou....