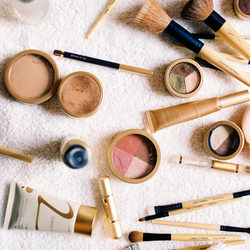 Chicago
Beauty
You want to look stunning on your wedding day ? having a professional style your hair and makeup will ensure that you do. Our beauty service members know all the latest trends and styles for bridal hair and makeup and will indulge you in pre-wedding pampering while helping you get your skin in tip top shape for your runway walk down the aisle.
Debra Petrielli Freelance Hair...
Debra Petrielli offers in home + on location services for weddings, parties + events, photography, and video. Debra, known for her loose, romantic styling, aims to make each client feel happy + beautiful for th...
Fine Makeup Art & Associates
Chicago's Most Beautiful Brides at Chicago's Most Beautiful Weddings. Traci Fine of Fine Makeup Art is one of Chicago's premier Wedding Makeup Artists and can be found on the preferred vendor list of Chicago's...
Bungalow/8 Hairdressing
BUNGALOW/8 Hairdressing is Omaha's premier boutique salon offering expert technical and creative hairdressing and brow shaping services. As a team of dedicated professionals, we continually strive to set the be...
Vavoom Pinups
Vintage Photoshoots for the Modern Woman for Timeless Brides and Unforgettable Bachelorette Parties! We believe every woman should have a chance to look iconic and timeless, not just on your wedding day!
Hope Artistry, LLC
Hope Artistry is a group of highly trained makeup artists and hair stylists led by Hope Henderson. Hope has 9 yrs experience in professional makeup including 5 years working for MAC Cosmetics. All stylists go o...
Nika Vaughan, Makeup Artist
Nika Vaughan and her team specialize in beauty, airbrush, and bridal makeup and hair services for events, photography, and video. We offer on-location appointments, love working with weddings of all sizes, and ...
Chicago Bridal Hair And Makeup
With over 20 years experience as a licensed hairstylist and makeup artist- Holly Kasprisin of Chicago Bridal Hair And Makeup, has a way of pleasing even the most discriminating Brides. Holly and her team of art...
Modern Bridal Studio
Modern Bridal Studio is an award winning team of 12 professional artists trained to deliver beautiful, classic and trendy hairstyles; along with flawless, lasting makeup looks. We come to your location and brin...
Are you a vendor interested in being featured in our Little Black Book?