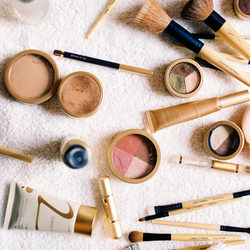 ATLANTA
Beauty
You want to look stunning on your wedding day ? having a professional style your hair and makeup will ensure that you do. Our beauty service members know all the latest trends and styles for bridal hair and makeup and will indulge you in pre-wedding pampering while helping you get your skin in tip top shape for your runway walk down the aisle.
Brushworx Hair and Makeup
Our On Location services let our brides and their families relax and enjoy their day while getting the pampering they deserve. They can be confident that their flawless hair and makeup will be perfection from the first ....
PORTFOLIO
Ann DeNicolo Makeup Artist
Ann's style is about creating timeless beauty. As a published makeup artist, she works both in the fashion and wedding industries. She enjoys working closely with her brides, creating for each of them a perfect look, cus....
PORTFOLIO