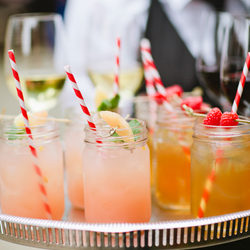 FLORIDA
Catering
Style Me Pretty's Little Black Book is a highly edited collection of wedding service providers from mom & pop boutiques to a-listers. Bottom line, these vendors are the best of the best.
BROWSE BY LOCATION
Dine by Design Catering
Dine by Design Catering specializes in providing you and your guests with exactly the event you had imagined. How do we do this? We listen.
Rockstar Catering Company
The difference between an ordinary wedding and a Rockstar wedding is in the details. We work hard, laugh often, and invest all energy into the creation of unforgettable events that are neither manufactured or contrived, ....
Paradise Catering
Jon & Nancy from Paradise Catering are long-time dedicated Wedding caterers: Weddings are almost all of what we do! From our homegrown vegetables, heirloom tomatoes, herbs & flowers, to our unbeatable flair for presentat....
Seasons Catering
Seasons Catering is a full service catering company dedicated to creating memorable events through its impeccable service, exquisite food, and creative presentations. Enjoy the convenience of our service along with the o....