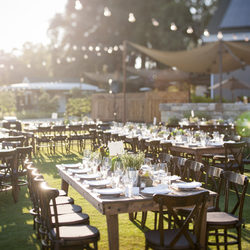 Barcelona
Venues
Choosing your wedding location has never been more inspiring. Our topnotch venue members provide an absolutely beautiful array of options from country clubs to reception ballrooms to scenic outdoor spaces. No matter which of our stunning venues you select, your dream-come-true setting will be exactly as you've always imagined it.
MON - Can Morato
Only 30 minutes from Barcelona, between two Natural Parks, we discover, serene and beautiful, this 11th century fortified country house.Inspired by the authenticity of its gardens, chapel and unique collection ...
MON - Les Belles Maisons
MON offers you an exclusive collection of private properties with special charm to organize your wedding. Dream locations in Spain that we open for you to receive your guests. Our properties offer unique scenar...
Miramonte Resort & Spa
At first it seems right out of a fairy tale, bright bougainvillea, olive groves and cascading waters all with the brilliant backdrop of the magnificent Mountains Two-story buildings with terraces overlook garde...
The Clear Creek Group
We take care of everything, from finding or maintaining that magical house in the arms of the mountains, to the fire in your fireplace and the lift tickets on the table. When you arrive, there's nothing you ne...
Bear Flag Farm
Bear Flag Farm is a thriving quintessential organic farm nestled among lavender fields, vineyards and orchards. This private estate farm specializes in couture wedding celebrations where our partner-chefs craft...
Are you a vendor interested in being featured in our Little Black Book?