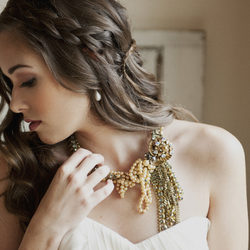 GLASGOW
Jewelry
Our trusted jewelry designers offer the most spectacular, timeless pieces for your wedding day and beyond. With design skills unsurpassed in the industry, our members offer a fashionable array of gorgeous jewels from the most stunning engagement bands to luxurious bridesmaid earrings.
Corrine Smith Design
Corrine Smith Design is a multi award winning bridal accessories company based in Scotland with a global reach, shipping to destinations worldwide. All of our products are handmade by designer Corrine Smith with meticul....
PORTFOLIO
DiamondLove
DiamondLove is Beautiful, Vintage Inspired, Designer coordinated, jewelry. An amazing online, one-stop shopping experience, from engagement rings, wedding and eternity rings through to your unique, designer, "down the ai....
PORTFOLIO