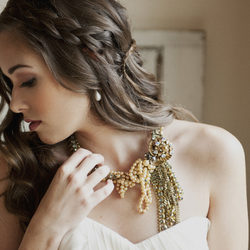 Europe
Jewelry
Our trusted jewelry designers offer the most spectacular, timeless pieces for your wedding day and beyond. With design skills unsurpassed in the industry, our members offer a fashionable array of gorgeous jewels from the most stunning engagement bands to luxurious bridesmaid earrings.
Select Sub-Location:
Britain
East SussexEssexLondonManchesterNorth BritainSouth West BritainSurrey
France
BordeauxBurgundyFrench AlpsFrench RivieraParisProvenceThe Loire Valley
Greece
AthensGreek IslandsMykonos
Italy
Amalfi CoastItalian Lake DistrictMilanPuglia (Apulia)RomeSardiniaSicilyTuscany ~ FlorenceUmbriaVenice
Spain
AndaluciaBarcelonaCastile and LeonGaliciaMadridMallorca ~ IbizaMarbella - Malaga
Are you a vendor interested in being featured in our Little Black Book?