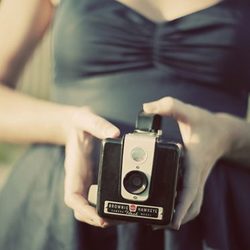 Tri-state NY Metro Area
Photography
Tri-state NY Metro Area includes vendors who provide service all of the following areas: Connecticut, New Jersey, and New York.
CLY BY MATTHEW
CLY BY MATTHEW has evolved from fashion, portrait and still life photography to the wonderful world of wedding photography in non-intrusive photo-journalistic style.
Brian Hatton Photography
Brian's eclectic style blends Manhattan elegance with refreshingly nuanced storytelling. This approach has led him to become recognized by New York Magazine as one of NYC's best wedding photographers.
Kelsey Combe Photography
Kelsey is a New York photographer with a love for all things wedding related. She has a light, airy style, and a passion for capturing laughter and joy.
Judith Rae Photography
Judith combines her love of fine art with her innate eye for storytelling. Judith's warm and loving nature make her clients feel comfortable & at ease enabling her to capture images that illuminate special mome...
Ciro Photography
Rich Ciro is an award winning wedding photographer based in New York. Originally from the New York City area, his work has won numerous international awards and has been published world-wide.
Moss + Isaac
At Moss + Isaac, we are focused on capturing love and life stories in a very beautiful, natural and real way. Our laid-back style makes even the most camera-shy feel at ease. If that strikes a cord in you, plea...
Vanessa Joy Photography
Professional New Jersey wedding photographer capturing NJ, NY and destination weddings. With an emphasis on photojournalism wedding photos, Vanessa Joy is an experienced photographer capturing everything from J...
Fabrice Tranzer
There is something about two people committing to each other forever, going through this sacred rite of passage together; it is about being human. And it is about beauty, about bliss, about glory, about transce...
W Studios New York
Blending editorial concepts with their photojournalistic style Yuliya and Stephen create a timeless story of a couple's wedding day and have fun doing it.
View More Vendors
Are you a vendor interested in being featured in our Little Black Book?