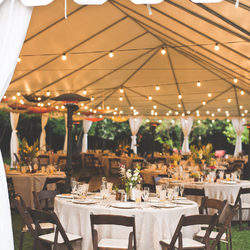 The Berkshires
Event Styling and Decor
Dreaming of tablescapes that dazzle? You can count on our expert stylists to take all the basic elements, from linen to paper goods, and apply their expertise in light, color, and thematic cohesion. Our members are creative geniuses whose extraordinary vision will hone your ideas into a harmonious and impactful setting that will wow your guests.
Unique Weddings by Alexis
Let us assist you in creating the wedding of your dreams! A full-service wedding planning company with extensive event experience, we provide a truly personal touch, ensuring your special day reflects your tast....
True Florette
True Florette creates artful floral designs and chic table decor for weddings and celebrations. Specializing in a fresh, organic style, we love working with you to design a look that is elegant, charming and ti....
Erganic Design
We fuse fashion, art & visual design, to engineer one-of-a kind weddings. Luxurious environments and unexpected details, are skillfully contrived to amplify the guest experience as well as your expectations. ....
Stacie Shea Events
Stacie Shea Events is an event design and full service wedding planning boutique creating custom weddings that are authentic to you and your love story. We are located in Greenwich, Connecticut but we will happ....
Details with Love
Creating, producing and orchestrating an extraordinary event to reflect your unique personality, style and love story.
EFD Creative - Event Planning ...
We offer creativity, professionalism and years of design and event-planning experience to make the day uniquely yours. We can help you find that perfect venue, ensure every aspect of the planning process is str....
Firefly Events
Firefly Events is a full-service wedding planning and design company located in New York City and available for travel worldwide! We take care of all the logistics and work with you to design an event that's be....
MSK Event Planning
A full-service event planning company, designed to offer personalized, one-on-one consultation and guidance.
La Fleur Weddings & Events
La Fleur Weddings & Events specializes in exclusive destination weddings & events throughout California and Hawaii.  Jill and her team will take care of every detail with creative vision, style and grace helpin....