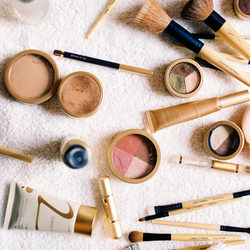 INLAND
Beauty
You want to look stunning on your wedding day ? having a professional style your hair and makeup will ensure that you do. Our beauty service members know all the latest trends and styles for bridal hair and makeup and will indulge you in pre-wedding pampering while helping you get your skin in tip top shape for your runway walk down the aisle.
Makeup Artistry by Liz
Recognized for her natural touch and eye for color, Liz Washer serves up camera-ready airbrush makeup for brides and beyond. As an award-winning, nationally published artist, Liz brings an editorial eye to every wedding ....
Keri Anne Shea Beauty
As a renowned make-up artist and hairstylist in CT, Keri Anne Shea Beauty is an elite onsite bridal and special occasion studio. We offer hair and traditional or airbrush makeup on one of the most important days of your ....
Satine Makeup & Hair Styling S...
Satine has always been passionate about makeup and hair styling. With 9 years of experience in the wedding makeup and hair industry, She brings her expertise to cater to each individual client.
Face Time Beauty Concierge, LL...
We are a team of celebrity makeup artists and hair stylists, specializing in bridal beauty, that travel to our clients anywhere and everywhere they need us.