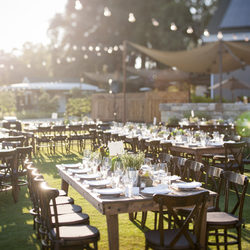 Rocky Mtns
Venues
Choosing your wedding location has never been more inspiring. Our topnotch venue members provide an absolutely beautiful array of options from country clubs to reception ballrooms to scenic outdoor spaces. No matter which of our stunning venues you select, your dream-come-true setting will be exactly as you've always imagined it.
The Westin Riverfront Resort a...
The Westin Riverfront Resort & Spa, located at the base of Colorado's Beaver Creek Mountain is the perfect choice for the wedding of your dreams. Offering an impeccable setting for your special event, filled wi....
Della Terra Mountain Chateau
Della Terra, a place where natural beauty and romantic design come together to create the perfect secluded mountain venue for your wedding ceremony and reception. Join us for a uniquely exceptional wedding expe....
Lionscrest Manor
Lionscrest Manor is a picturesque mountain wedding venue, on a luxurious and private 50-acre Victorian estate, located in Boulder County Colorado. Surrounded by Hall Ranch Open Space, Lionscrest Manor provides ....
The Lodge & Spa at Cordillera
The Lodge & Spa at Cordillera is a secluded mountain top, boutique luxury resort. If you are looking for an intimate and unique wedding venue, The Lodge & Spa at Cordillera will create a one of a kind wedding e....
Caribbean Club
The Caribbean Club is unique, combining the space and convenience of private villas with the luxury and service of a boutique hotel. Not to mention our spectacular stretch along world famous Seven Mile Beach.