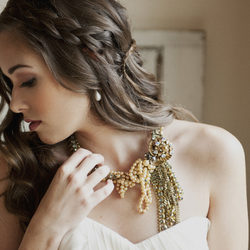 Rocky Mtns
Jewelry
Our trusted jewelry designers offer the most spectacular, timeless pieces for your wedding day and beyond. With design skills unsurpassed in the industry, our members offer a fashionable array of gorgeous jewels from the most stunning engagement bands to luxurious bridesmaid earrings.
Little White Dress Bridal Shop
Necklaces. Bracelets. Earrings. Lots of them. Beautiful. High quality. Special. Unique. Just like you. Visit Little White Dress Bridal Shop today and love EVERYTHING you are wearing on your wedding day....
PORTFOLIO
Kira Kira by Suz Somersall
KiraKira specializes in unusual but classic engagement rings, weddings bands and bridal party jewelry. Elegant forms, organic accents and superb technique and styling define the distinctive collection of brida....
PORTFOLIO