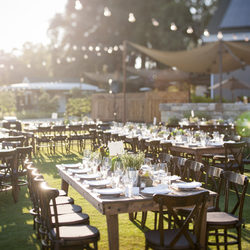 Denver
Venues
Choosing your wedding location has never been more inspiring. Our topnotch venue members provide an absolutely beautiful array of options from country clubs to reception ballrooms to scenic outdoor spaces. No matter which of our stunning venues you select, your dream-come-true setting will be exactly as you've always imagined it.
The Westin Riverfront Resort a...
The Westin Riverfront Resort & Spa, located at the base of Colorado's Beaver Creek Mountain is the perfect choice for the wedding of your dreams. Offering an impeccable setting for your special event, filled wi....
The Ritz-Carlton, Denver
We offer a range of enchanting spaces for an extraordinary wedding. Each of our venues can be customized to realize a nuanced, individualized vision. Whether lavish or intimate in scale, a wedding at The Ritz....
The Lodge & Spa at Cordillera
The Lodge & Spa at Cordillera is a secluded mountain top, boutique luxury resort. If you are looking for an intimate and unique wedding venue, The Lodge & Spa at Cordillera will create a one of a kind wedding e....
JW Marriott Denver Cherry Cree...
The JW Marriott Denver at Cherry Creek offers an unparalleled standard of service paired with a luxury hotel located in Cherry Creek North, Denver's most upscale shopping district. The JW Marriott offers elega....
Villa Parker Cultural and Even...
Romance is our Specialty at Villa Parker...This captivating Tuscan estate draws you in with its charms, striking views and effortless flow of outdoor and indoor settings that graciously take you from vows to re....
Sanderling Resort
Whatever your group's celebratory need—be it a rehearsal dinner, wedding ceremony or reception or farewell brunch, Sanderling's wide variety of venues and commitment to detail, service and presentation will pro....