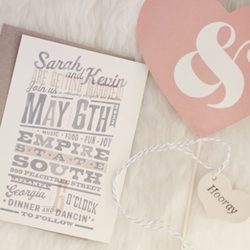 DENVER
Invitations
Abby Larson is an invitation designer herself, so paper arts have a very special place in her heart. You can count on our handpicked invitation members to exceed your expectations with their design expertise. Carefully considering your unique theme, palette, and paper selection details, our invitation artists will create an unforgettable and beautiful first impression of your upcoming nuptials.
Lana's Shop
Lana's Shop is a custom illustration and design boutique recognized for providing tailored hand-painted illustrations and lettering. My goal is to bring an extra touch of something personal into every wedding suite, prog....
Four 13 Designs
Located in the Colorado mountains, Four 13 Designs combines imaginative design with handcrafted details on the finest materials to create an exclusive design reflective of you alone! We design all types of stationery: In....
Hip Ink
Every wedding invitation tells the story of two individuals choosing to share their lives as one. Let your invitation be the reflection of your style, your dreams and your passions, interpreted through papers and design,....
Alannah Rose
Launched in 2005, Alannah Rose's online stationery emporium has grown to become one of Australia's largest and most loved wedding stationery boutiques. Known for their unique designs, professional service and outstanding....