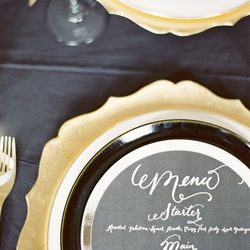 CALLIGRAPHY
ALL VENDORS
Nearby Vendors
Just Write Studios
At Just Write Studios it's our goal to exceed your expectations- each and every time! We provide calligraphy and hand-engraving services for clients nationwide. Our fast turn around times and reasonable prices make us a ....
Pretty Mail Calligraphy
Handwritten envelopes, seating cards, and signage for special events. Annie Lloyd's signature handwriting style is elegant, consistent and professionally-finished with loose, graceful lines that achieve overall balance. ....
Meant To Be Calligraphy
Life's most meaningful celebrations deserve a personal touch. Meant To Be Calligraphy helps set the tone before the first guest arrives with beautiful hand-lettered invitations and envelopes, then carries that elegance t....
Destination Vendors
Angela Welch Pen and Pauper
Pen and Pauper creates the most exquisite hand drawn invitations and illuminated aisle runners for your wedding celebration. Pure elegance aptly describes the finely drawn flourishes and intricate flowers from the hand o....
Other Vendors