MONTREAL
Fashion Accessories
Our accessorizing members know it?s all about the details - headpieces, belts, veils, handbags and footwear?.completing the perfect ensemble starts with the little things! Our experts' unique and flattering designs will help you express your individual style to complete your perfect bridal look.
Trink Jewelry
Designed & created by Tracy Gartner, each piece is made with love using Swarovski Elements. Specializing in delicate crystal bridal jewelry & jewels for the hair, trink also offers a special collection of jewelry gift s....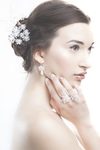 PORTFOLIO
Solemates
Solemates is a brand of finely curated shoe accessories. Their flagship line is the Solemates High Heeler(R), which is a patented, discreet, reusable heel protector that prevents high heels from sinking into the grass.
PORTFOLIO