TORONTO
Entertainment
Our carefully selected talented dj's and musicians are prized for their entertainment sophistication. They are also experts at helping you customize your music selections to ensure your wedding party is a celebration that perfectly reflects your personality, style, and theme.
St. Royals Entertainment
Your guests will dance and celebrate into the night with The St. Royals, the ideal choice for live party bands and supergroups, ceremony duos, jazz ensembles, string quartets, DJs, sound and lighting design, and luxury e....
PORTFOLIO
Bobby Jo Valentine
A 5-star rated wedding musician with soulful, romantic acoustic music (guitar and ukulele), Bobby will make your wedding unforgettable. Perfect for ceremony, cocktail hr, and your first dance. Visit the website below for....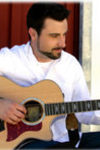 PORTFOLIO