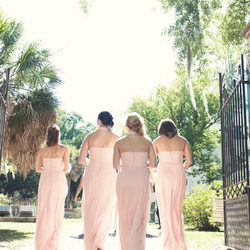 TORONTO
Bridesmaid
Your bridesmaids will thank you for this shopping experience, which is more like a pre-wedding party. Our fashion specialists offer so many different complementing style lengths, colors, and fabrics, you will find the perfect dress to flatter every figure. And don't forget to throw an Album Party to celebrate when you get the gorgeous pictures back!
Valencienne Bridal
Valencienne Bridal is an overwhelming experience for your senses, filled with luxurious gowns made with impeccable skill and craftsmanship. Upon entering you are captivated by the extravagance; a billowing confection of ....
PORTFOLIO
Anna Sheffield Bridal
Anna Sheffield Bridal offers a timeless alternative to the traditional world of Commitment and Fine jewelry. We procure the highest quality conflict-free diamonds, as well as precious, rare, and antique gemstones to ens....
PORTFOLIO