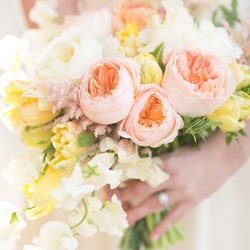 SACRAMENTO
Florals
Flowers are one of the most important design elements of your celebration. Our wedding floral designers, highly trained in all aspects of floral art, know how important it is to bring forth your vision. They will work closely with you to design, select and arrange every single stem to absolute perfection.
Flourish
Artistry, passion and knowledge are all elements vital to wedding and special event floral design. Striking colors, rich textures, lingering scents and inspired design combine to make wedding and special event flowers by....
Blooms by Martha Andrews
At Blooms we specialize in capturing who you are: elegant, simple, sophisticated or casual. We create the floral look and feeling you want for your day of days. Every bride is special and we make each wedding unique to r....
Three Sisters Custom Flowers &...
Three Sisters Flowers offers floral design, event design, complete event planning and event coordination. We have the highest standards for our designs. By using only the freshest flowers and taking the best care of our ....
Tuscany Flowers
Tuscany Flowers is a couture floral design company based in Florence, specializing in high-end, bespoke floral decor and working primarily with an international clientele. Our flowers are of the highest quality, as is ou....