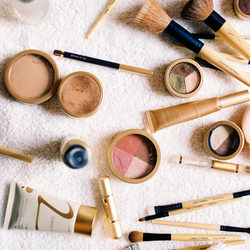 ORANGE COUNTY
Beauty
You want to look stunning on your wedding day ? having a professional style your hair and makeup will ensure that you do. Our beauty service members know all the latest trends and styles for bridal hair and makeup and will indulge you in pre-wedding pampering while helping you get your skin in tip top shape for your runway walk down the aisle.
Fiore Beauty
You want to look like yourself - just the effortlessly gorgeous version. Fiore Beauty provides you with exceptional on-site beauty experiences tailored to you. Our artists are known throughout Southern California for the....
Kacee Geoffroy Hair and Makeup
I feel like weddings are magical! That moment of when the doors open and the groom gets his first look at his bride. It has always taken my breath away! I love that I get to be a part of that moment!
Nicoletta Daskalakis Makeup & ...
Nicoletta Daskalakis is an International Makeup Artist & Hair Stylist based in Los Angeles. Along with her team of 10 artists and stylists, use airbrush makeup that lasts up to 16 hours, and she promises that you will ....
Symmetry Beauty by Nyrie
Symmetry Beauty is a boutique beauty agency catering to brides and clients all over Southern California. Nyrie has teamed up with L.A.'s elite beauty experts to provide top-notch artistry along with luxurious spa service....
Mariah Nicole Makeup & Hair Ar...
Mariah Nicole & her team of artists are voted #1 in wedding makeup & hair! We are dedicated to making you look & feel like the best version of yourself. Brides are the focus and we strive to make you look best!
Face Time Beauty Concierge, LL...
We are a team of celebrity makeup artists and hair stylists, specializing in bridal beauty, that travel to our clients anywhere and everywhere they need us.