WESTERN AUSTRALIA
Celebrants and Officiants
Our talented celebrants and officiants are calm professionals who will help capture the spirit of your vows without stealing the scene. Our members will perform your ceremony while providing sincere and unobtrusive emotional support as you express your most personal and meaningful promises.
Danicia Dutry Ceremonies
One of life's most amazing milestones is finding a partner to share your life! Danicia Dutry, one of WA 's most sought-after celebrants, creates bespoke ceremonies for unique couples embarking on the journey of their liv....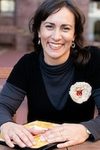 PORTFOLIO